Newsroom
DCFS Invites Public to Regional "Conversations with a Secretary" Community Meetings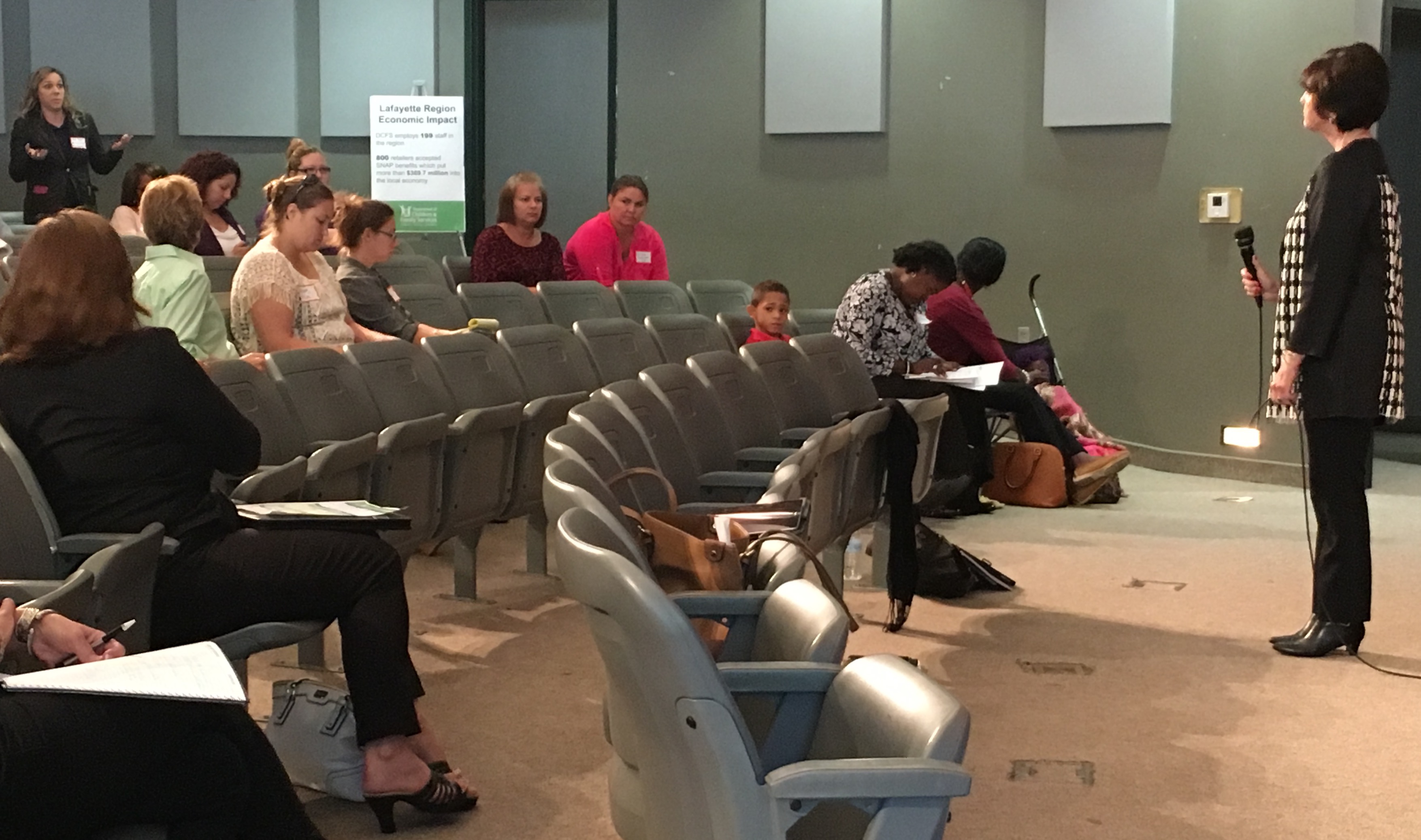 BATON ROUGE, LA - The Louisiana Department of Children and Family Services is inviting the public to a community conversation with Secretary Marketa Garner Walters and DCFS leadership on the issues of child welfare and poverty.
Walters will provide an update on DCFS activities over the past two and a half years. These include revolutionizing Louisiana's approach to foster care, the department's record-setting adoptions and DCFS' efforts to provide disaster food assistance and sheltering after the floods of 2016 and sheltering assistance for Texas residents after hurricane Harvey. The department recently launched efforts to extend foster care through age 21 and is expanding programs, such as the SNAP Employment and Training program, that address poverty and enable Louisianans to live well.
Walters will provide regional and statewide data and field questions and comments from the community.
"We serve Louisiana's most fragile children and families," Walters said. "When you consider our SNAP clients, our work with Disability Determination Services, child support, foster care and adoption, emergency preparedness, and other services, DCFS impacts about one in every four Louisiana residents. We think it's important to get out of the capital city and hear directly from communities so we can work together to improve lives and create opportunities."
Though it's not required for attendance, DCFS is encouraging participants to register at the following link:
https://conta.cc/2MB7w1p
.
All the events begin at 2 p.m. See a full schedule below or
click here for a flier
.
Date & Time
Location
Wednesday, August 22, 2018
2 p.m.


LAFAYETTE REGION
Immaculate Heart of Mary
818 12th Street
Lafayette, LA 70501

Thursday, August 23, 2018
2 p.m.



LAKE CHARLES REGION
Civic Center
Contraband Room
900 Lakeshore Drive


Lake Charles, LA 70601

Tuesday, August 28, 2018
2 p.m.


ALEXANDRIA REGION
St. James Episcopal Church Hall
1620 Murray St.
Alexandria, LA 71301
Wednesday, August 29, 2018
2 p.m.



SHREVEPORT REGION
First Presbyterian Church Gymnasium
900 Jordan Street
Shreveport, LA 71101

Thursday, August 30, 2018
2 p.m.



MONROE REGION
Grambling State University Student Union
Black & Gold Room
403 Main Street


Grambling, LA 71245

Wednesday, September 12, 2018
2 p.m.




BATON ROUGE REGION
Southern University Law Center
Room 130
Roosevelt Steptoe Drive
Baton Rouge, LA 70813
Thursday, September 13, 2018
2 p.m.



COVINGTON REGION
First Baptist Church of Covington
Fellowship Hall
16333 Highway 1085
Covington, LA 70433
Wednesday, September 26, 2018
2 p.m.


THIBODAUX REGION
Allen Chapel AME Church
1101 Lagard Street
Thibodaux, LA 70301
Thursday, September 27, 2018
2 p.m.


NEW ORLEANS REGION
First Baptist Church
5290 Canal Blvd.
New Orleans, LA 70124

###