Newsroom
DCFS Selected to Test Workforce Strategies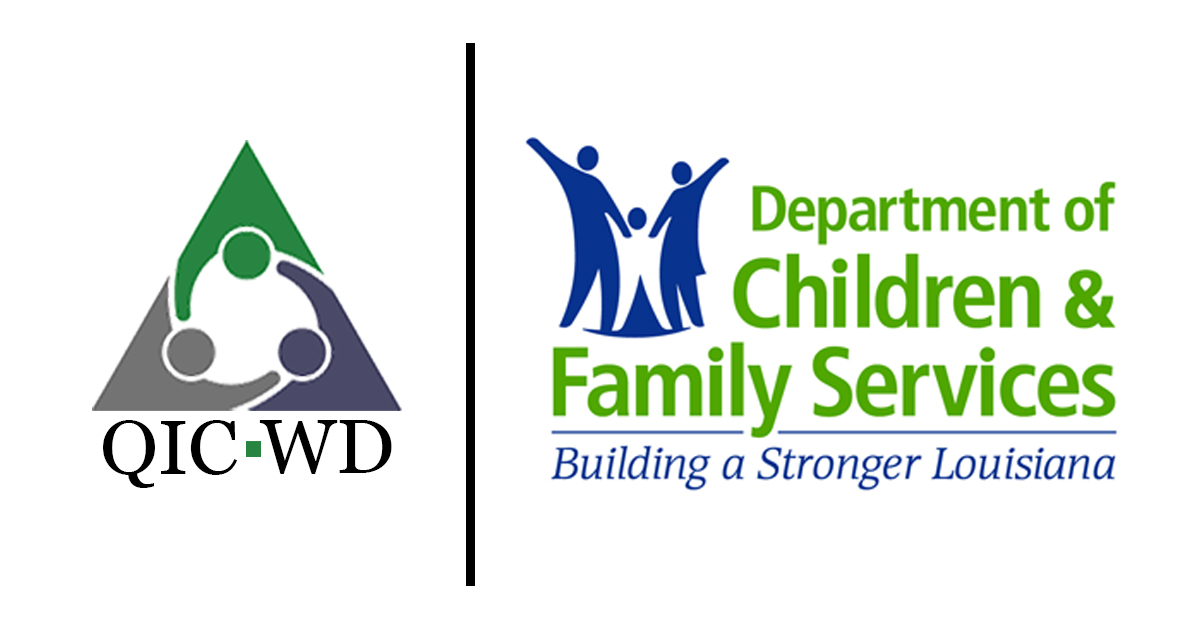 BATON ROUGE, La. - The Louisiana Department of Children and Family Services (DCFS) was selected as one of eight sites to partner with the Quality Improvement Center for Workforce Development (QIC-WD) to strengthen the workforce.
DCFS has faced numerous workforce challenges over the past decade, including a 30 percent reduction in force since 2008 and a significant loss of "career employees" with institutional knowledge. In addition, salaries have not kept pace with inflationary costs, much less market rates. A child welfare specialist with a pay rate of $27,144 per year, or $13.05 per hour, earns roughly the same as a morning stocker at a retail chain. One of the results has been high turnover among staff.
Over the next four years, DCFS will work with the QIC-WD to address and study potential solutions to their specific workforce issues. Potential strategies include introducing flexible scheduling, expanding recruitment to non-traditional applicants and providing compensation for advanced degrees, among others.
QIC-WD: Generating Evidence to Strengthen the Child Welfare Workforce from Answers4Families on Vimeo.
Sites were chosen through a competitive, national process that began in January 2017. Applicants had to demonstrate their workforce needs and willingness to participate in a research project to be selected. Dr. Michelle Graef, research associate professor in industrial-organizational psychology at the University of Nebraska-Lincoln, Center on Children, Families and the Law, and Director of the QIC-WD, noted that, "This was a very competitive process. The selected sites demonstrated an understanding of their workforce challenges, a willingness to participate in a study, and a desire to partner with our team to test a promising strategy with the potential to significantly improve their agency."
The other selected child welfare systems include:
• Division of Milwaukee (WI) Child Protective Services
• Eastern Band of Cherokee Indians
• Nebraska Department of Health and Human Services, Division of Child and Family Services
• Ohio Department of Job and Family Services and yet to be selected counties
• Oklahoma Department of Human Services
• Virginia Department of Social Services and yet to be selected counties
• Washington Department of Social and Health Services, Children's Administration
"We are honored to be part of this project and excited about partnering to find solutions to our workforce challenges," said DCFS Secretary Marketa Garner Walters. "We have done a lot of hard work over the past 20 months to reorganize our department and improve staff morale, despite budgetary challenges. One thing we haven't been able to change is that we still have 600 fewer people doing this work. We know we need to provide more work-life balance and develop strategies that are more conducive to meeting the needs of both our clients and our staff."
Staff turnover in child welfare agencies is typically up to six times the national average rate across all industries. While the U.S. Bureau of Labor Statistics pegs the national average rate around 3.5 percent, the statewide rate for DCFS child welfare staff in 2016 was 22.9 percent. Although that rate is the lowest it has been since 2012, it is still a long way from even the 16.2 percent turnover DCFS saw just six years ago.
Turnover was highest in the Baton Rouge Region, at 50.7 percent, with the other regions as follows:
| | |
| --- | --- |
| Monroe | 36.5% |
| Shreveport | 27.6% |
| Lake Charles | 22.2% |
| Covington | 21.5% |
| Alexandria | 18.8% |
| Thibodaux | 17.6% |
| Orleans | 15.9% |
| Lafayette | 8.3% |
Nearly half of the child welfare workers who left DCFS in 2016 had less than three years of service.
Turnover creates a significant cost for DCFS - $10.3 million in one year alone - but the costs are even more significant for children.
One study found that as the number of workers handling a case increased, the chances of stability for families and permanency for children decreased. Higher turnover also has been linked to higher rates of maltreatment recurrence.
"Ultimately, a stronger workforce with less turnover and more supportive organizational environments should improve the outcomes of the vulnerable families and children served by the child welfare system," said Dr. Graef.
The QIC-WD was established in 2016 and is funded through a five-year cooperative agreement with the Children's Bureau, an agency of the U.S. Department of Health and Human Services' Administration for Children and Families. The QIC-WD is led by University of Nebraska-Lincoln and includes experts in child welfare, workforce, implementation, evaluation, and dissemination from partner organizations. The QIC-WD is committed to using the best available research, from a variety of fields, to identify strategies to strengthen the workforce of DCFS.
For more information about the QIC-WD, visit www.qic-wd.org.
###