Newsroom
DSS Ceremony Celebrates Adoptive Families, Advocates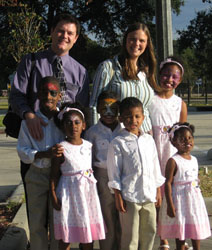 BATON ROUGE - The Louisiana Department of Children & Family Services kicked off November as Adoption Awareness Month in Louisiana by celebrating 433 families who made adoptive commitments to 597 children this year at the Office of Community Services' 10th Annual Adoption Reception Celebration held today at the Governor's Mansion.
The event also recognized advocates Alexandria Zoological Park and Petroleum Helicopter Inc., who received Community Support Awards for outstanding achievement in supporting and advocating for children and families.
"We are grateful to everyone who has created loving homes for these deserving children during the past year," DSS Interim Secretary Kristy Nichols said. "These are special people in our
communities who give of themselves to provide safe and stable homes, and we want to honor their contributions."
A 2006 American University study found that children adopted are 23 percent more likely to complete high school or its equivalent, and they are twice as likely to obtain additional schooling after secondary school relative to peers who remain in their original inadequate environment.
The same study found that those adopted are 22 percent more likely to be in the labor force, and with higher incomes, as young adults. Nine-year-old Terron and his seven-year-old brother Montrell are just two of more than 4,930 children in the state's foster care system. Of that number, 600 children such as Terron and Montrell are legally freed for adoption and in need of an adoptive placement.
Terron and Montrell have lived in three foster homes since entering foster care five years ago as a result of parental abuse and neglect. During these difficult years the siblings have longed for a loving family of their own, but with each passing day they face the grim realty that their chances of finding an adoptive home grow slimmer. According to Nichols, the number of children in the state's foster care system has decreased by 270 since last year. Of that number, the majority are ages 9-17, like Terron and Montell.
OCS actively recruits foster homes for children who come from a variety of backgrounds and have a variety of special needs. To obtain information about becoming an adoptive or foster parent, please contact an OCS regional office at:

New Orleans OCS: (504) 568-7448 (888) 617-3298
Baton Rouge OCS: (225) 922-2929 (866) 886-1001
Thibodaux OCS: (985) 449-5055 (800) 748-7755
Lafayette OCS: (337) 262-5970 (800) 256-8611
Lake Charles OCS: (337) 475-3030 (800) 814-1584
Alexandria OCS: (318) 487-5921 (800) 814-1585
Shreveport OCS: (318) 676-7248 (800) 676-5048
Monroe OCS: (318) 362-3362 (800) 256-8654
Covington OCS: (985) 893-6363 (800) 256-1918
Jefferson OCS: (504) 736- 7171 (888) 733-7171
To learn more about Louisiana's children who are awaiting permanent homes, please visit the DSS Web site at www.dss.state.la.us and click on the Children Available for Adoption link.
--30--