Newsroom
DCFS Encourages Residents to Pre-Apply for Disaster Food Assistance as Hurricane Season Begins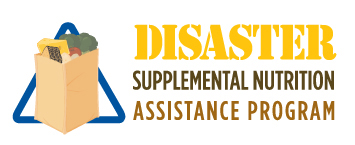 Hurricane season officially begins June 1, and the Louisiana Department of Children and Family Services (DCFS) is encouraging residents to prepare by pre-applying online for Disaster Supplemental Nutrition Assistance Program benefits (DSNAP), formerly called Disaster Food Stamps.
"Hurricane Issac and the launch of DSNAP sites across Southeastern Louisiana reminded everyone of the importance of preparation. It is never too early to prepare for a disaster," said DCFS Secretary Suzy Sonnier. "With hurricane season here, I urge all residents, especially those living in coastal areas, to take the necessary steps to prepare their household by pre-applying for DSNAP."
DSNAP provides food assistance for eligible households who do not receive regular Supplemental Nutrition Assistance Program (SNAP) benefits and who need help buying groceries due to lost income or damages following a disaster. In the event of a disaster the state must request that the federal government initiate DSNAP, but can only make the request if the parish has been declared eligible for Individual Assistance by the Federal Emergency Management Agency (FEMA).
To date, 373,252 Louisiana families have pre-applied for DSNAP since DCFS launched the program in June 2009. Any family that previously pre-applied for DSNAP or received DSNAP benefits during 2012's Hurricane Isaac does not need to pre-apply again. Individuals who pre-applied are encouraged to update their financial and household information if it has changed by logging into their account at
www.dcfs.la.gov/preapply
.
Last year, residents who had pre-applied for DSNAP reported shorter lines at DSNAP applications sites following Hurricane Isaac. DCFS operated DSNAP sites in 21 parishes following the storm, serving 263,459 households.
"The pre-application process does not guarantee benefits, but is designed to save time, prevent long waits and make it easier for applicants to provide the required income information," said Sonnier. "We encourage all residents to be proactive this hurricane season by completing the pre-application in advance."
Residents can pre-apply for DSNAP by visiting
www.dcfs.la.gov/preapply
and
www.getagameplan.org
or by calling 1-888-LA-HELPU (1-888-524-3578).
Applicants must provide the following information:
Names, Social Security Numbers and Dates of Birth for each household member
Current address and parish of household
Monthly income for each household member
All liquid resources for each household member (cash on hand, checking, savings and money market account balances and certificates of deposit)
The information will be kept securely on file and will be confidential.
In the event that a disaster is declared and a DSNAP program is launched, residents, or their authorized representatives, who have pre-applied only need to visit a DSNAP issuance site to verify their information and identity, determine final eligibility and receive their benefit cards if eligible. Exact eligibility requirements and DSNAP issuance sites will be announced only after a disaster is declared.
Louisiana's federally approved system is the first year-round DSNAP pre-application process in the nation. For more information on DSNAP and how to pre-apply visit
www.dcfs.la.gov/dsnap
.
DSNAP is administered in Louisiana by DCFS and overseen by the United States Department of Agriculture (USDA) Food and Nutrition Service. USDA is an equal opportunity provider and employer.
Read more about recipients' rights.