Newsroom
DCFS Secretary Honored for Exceptional Contributions in State Government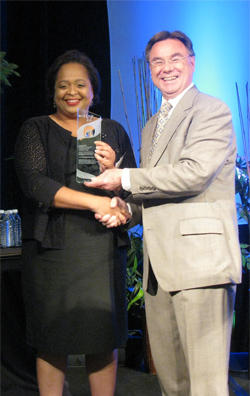 BATON ROUGE -- The National Association of State Chief Information Officers (NASCIO) today honored Ruth Johnson, secretary of the Louisiana Department of Children and Family Services, with the association's State Technology Innovator award. The honor was presented during NASCIO's 2011 Annual Conference in Denver.
According to NASCIO, Johnson was chosen for her efforts to leverage technology in state government to keep children safe, help individuals and families become self-sufficient, and provide safe refuge during disasters. Modernizing the various human service programs that support needy citizens is an ongoing challenge, and one that Johnson is tackling on many fronts, NASCIO noted. Her leadership in advancements in services delivery, adoption of new technologies, and use of best practices can be seen in Louisiana's Common Access Front End (CAFÉ) for multiple public assistance programs, which will launch statewide early in 2012, and Tracking of Time Services (TOTS) for the Child Care Assistance Program, which has saved an average of $2.2 million per month.
Newly elected NASCIO President Dugan Petty said, "NASCIO is pleased to recognize Ruth Johnson with this prestigious award. Her leadership has advanced citizen service, information sharing and good government, and we applaud her commitment to these efforts."
Other innovations led by Johnson include the implementation of 1-888-LA-HELPU, a single call center launched in July to allow clients to call one number and receive information on their accounts either automatically or by speaking to a customer service representative. Also in July, Johnson launched 1-855-4LA-KIDS, a centralized intake hotline for child protection investigations allowing reporters to call one number 24 hours a day, 7 days a week, and speak to a trained child welfare worker to report possible abuse and neglect.
Nominations for the award were gathered from NASCIO members as well as non-members. NASCIO presents the State Technology Innovator Award on an annual basis to recognize state leaders who steadily promote innovation, excellence and good government. Nominees must be an employee of, elected official, appointed official or other appointee representing state government.
Johnson also is featured in the October issue of "Policy and Practice," the magazine of the American Public Human Services Association. The magazine profiles Johnson in the "Our Do'ers Profile," which highlights hardworking and talented individuals in public human services.
In the profile, Johnson discusses the rewards, challenges and accomplishments of serving as DCFS Secretary.
According to Johnson, she is rewarded by the work DCFS does to assist individuals, families and children in becoming self-sufficient, stable, thriving members of the community and proud of the agency's modernization efforts to improve service delivery, expand client access and enhance worker productivity. Of the challenges in public service delivery, Johnson says she will continue working to provide holistic and preventative services for clients across human service programs and agencies.
The National Association of State Chief Information Officers is the premier network and resource for state CIO's and a leading advocate for technology policy at all levels of government.
The American Public Human Services Association is a national, nonprofit and bipartisan organization that pursues excellence in health, human and social services by supporting state and local agencies, informing policymakers and working to drive efficient solutions in policy and practice.
-30-