Newsroom
Louisiana's Disaster Food Stamp Pre-Application Receives National Award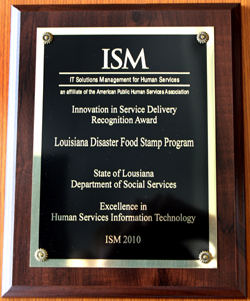 The Louisiana Department of Children and Family Services (DCFS) has received the 2010 Recognition Award for Excellence in Human Services Information Technology Award for the DSNAP pre-application program, which allows low- to moderate-income Louisiana residents who think they could be impacted by a disaster to pre-apply for benefits online or by phone.
The award was announced today at the 2010 American Public Human Services Association's (APHSA) Information Technology Solutions Management (ISM) for Human Services in Chicago.
"Louisianians have faced unparalleled disasters in recent years," said DCFS Secretary Ruth Johnson. "Our DSNAP initiative allows our residents to proactively prepare for these disasters rather than face long lines and delays in service and benefit delivery, after a storm or other disaster."
ISM, an affiliate of APHSA chose Louisiana for the award from among a host of state and local programs. The award is intended to give national exposure to innovation in service delivery, application of new technologies, collaboration across traditional boundaries and excellence in leadership in the application of information technology is state and local government human services.
Additionally, the DSNAP pre-application process helps Louisiana reduce fraud and improve accuracy. The program allows the state to cross-reference its database of DSNAP applicants against regular food stamp recipients and databases in neighboring states to ensure that the state doesn't duplicate benefits.
More than 20,000 households have pre-applied for disaster food stamps since the program launched in June 2009. To pre-apply, residents can visit
www.dcfs.louisiana.gov
or
www.getagameplan.org
and provide the following information:
Names, Social Security Numbers and Dates of Birth for each household member
Current address and parish of household
Monthly income for each household member
All liquid resources for each household member (cash on hand, checking, savings and money market account balances and certificates of deposit)
The information will be kept securely on file and will be confidential
Residents without Internet access may call 1-888-LA HELP U (1-888-524-3578) to pre-apply.
Pre-applying does not guarantee benefits. After a disaster is declared, residents who have pre-applied only need to visit a DSNAP issuance site to verify their information and identity, determine final eligibility and receive their benefit cards. Exact eligibility requirements and DSNAP issuance sites will be announced only after a disaster is declared.
Louisiana launched the DSNAP pre-application process in June 2009. It is the first year-round, federally approved system in the nation.