Newsroom
BP responds to DSS, Second Harvest, Catholic Charities request for aid
BP donates $1 million for food aid, direct assistance for families impacted by oil spill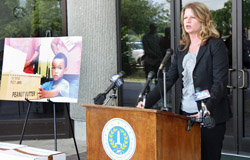 Responding to a request issued by the Louisiana Department of Children & Family Services (DSS) three weeks ago, BP today donated $1 million to two New Orleans based non-profits to provide food aid, direct cash assistance and other services to families and individuals impacted by the oil spill in the Gulf of Mexico.
"It is too early to know the impact of this disaster on these families and the entire state of Louisiana, but this is a good step in making sure that no one goes hungry or is forced to choose between feeding their family and paying their bills," said DSS Secretary Kristy Nichols.
Catholic Charities Archdiocese of New Orleans and Second Harvest Food Bank of Greater New Orleans and Acadiana will use the funds to provide food aid and direct cash assistance for expenses like rent and car payments, as well as case management and counseling services.
This $1 million donation is on top of $100,000 already given to Second Harvest, which has distributed nearly 600 emergency food boxes at disaster relief sites in St. Bernard and Plaquemines parishes and New Orleans East. Second Harvest's member agencies have given out more than 13,250 meals in St. Bernard and Plaquemines parishes.
"The people of Louisiana could not ask for more dedicated teams than Second Harvest and Catholic Charities," said Nichols. "They have been on the ground responding to this disaster from day one. Even after the oil stops flowing from the depths of the Gulf of Mexico, the impact of this disaster will reverberate through the lives of coastal Louisianians for months and possibly years to come and will require continued assistance to see them through."
DSS has worked closely with Second Harvest and Catholic Charities during the past weeks, co-writing requests to BP for aid for families. Additionally, DSS is working to ensure that as many impacted families that qualify apply for federal aid programs like the Supplemental Nutrition Assistance Program (SNAP).
SNAP outreach teams are working in 13 locations in Plaquemines, St. Bernard, St. Tammany, Lafourche, Jefferson and Terrebonne parishes to assist individuals in applying for regular SNAP benefits, formerly known as food stamps. More than 800 households have applied for assistance at the outreach locations since May 3.
DSS collaborated with the U.S. Department of Agriculture (USDA) last week to develop and issue an emergency rule revising what income and assets can be counted to determine eligibility for SNAP and other federally-funded cash-based aid.
The rule, which applies statewide, is designed to target the needs of coastal residents who may have recently lost income, but have assets that put them over the limit to receive aid. The rule also applies to the Family Independence Temporary Assistance Program (FITAP), the Kinship Care Subsidy Payment (KCSP) and the Child Care Assistance Program (CCAP), all programs that provide direct cash-aid to families or pay for needed services like day care.
"Estimates indicate that approximately 47,000 households may experience a need for food and household commodity assistance due to the oil spill," said Nichols. "DSS is committed to exploring every avenue for aid to these families."
Before the oil spill, DSS had already seen large increases in the numbers of coastal Louisiana households applying for SNAP. In some cases, nearly 8,000 additional families per month qualified for SNAP.
Since May 1, Second Harvest Food Bank Member agencies have experienced a 15 to 25 percent increase in the number of new people seeking emergency food assistance
Individuals in need of assistance are encouraged to
apply for SNAP benefits
. For immediate assistance, call Catholic Charities Care Line at 1-866-891-2210 or Second Harvest Food Bank at 504-734-1322. Visit
www.no-hunger.org
for help locating a Second Harvest Food Bank member agency in their local community.