Newsroom
DCFS Celebrates Adoption Awareness Month with Families and Children at Governor's Mansion
11.02.12
-
The Louisiana Department of Children and Family Services (DCFS) celebrated the record 652 Louisiana Children who were adopted by 468 families over the past year at the 14th Annual Adoption Celebration at the Governor's Mansion this Friday afternoon.
Governor Bobby Jindal has proclaimed November Adoption Awareness Month, noting that adopted children come "to know the benefits of the permanence that is central to a sound home life provided by a loving family."
DCFS Secretary Suzy Sonnier said, "Ensuring children are safe and in stable, loving, permanent homes is our top priority at DCFS. Foster and adoptive families are critical to our mission. Our celebration honors the commitment that Louisiana families have made by opening their hearts and their homes to some of our state's most vulnerable children. We hope it brings awareness of the need for more foster and adoptive families in Louisiana and inspires others to join the families we are celebrating with today."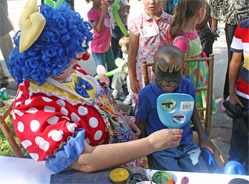 Lashaun Hollis, 4, admires his batman facepaint by Bubbles the Clown. Lashaun traveled with his mom and four siblings to the Governor's Mansion celebration from Cottonport, La.
Louisiana families and their newly adopted children were guests of honor at the afternoon celebration, which featured children's entertainment, face painting and balloon animals by "Bubbles the Clown." The St. Michael the Archangel High School Jazz Band also performed.
Following remarks by U.S. Senator David Vitter, Sonnier presented the agency's Adoption Advocate Awards.
Scott Rogers of Baton Rouge was honored with the Media Advocate Award. Rogers, an adoptive parent, is the host of Around Town, Louisiana's largest weekend television program, which he has used as a platform for the need for foster and adoptive homes for children in Louisiana. Rogers' passion for fostering and adoption led him to complete the required training to become a certified licensed foster parent himself.
Sonnier said that the Rogers has led by example and is an advocate like no other in DCFS' work to place foster children in permanent adoptive homes. From raising funds and securing sponsorships for Christmas events, successfully encouraging other families to become involved in fostering and adoption, to making a lifelong commitment to his adopted son, his dedication to making a difference in the lives of Louisiana's children is clear.
Sonnier also presented the Individual Advocate Award to Susan Stevison of Pineville and the Community Advocate Award to Pamela Castille of Lafayette.
Stevison, a photographer, was honored for her generous donation of time and talent to provide professional quality portraits of children awaiting adoptive homes. The special attention she provides for each child and her eye for detail result in portraits that reflect each child's personality. The portraits are then used in the process of matching foster children with potential forever families.
Castille, a seven-year volunteer, devotes her time every holiday season to providing Christmas gifts for children who are awaiting adoption. By working with local businesses, Castille raises money to make Christmas happy for children in the Lafayette region and also promotes community awareness of the number of children in foster care and the need for foster and adoptive families.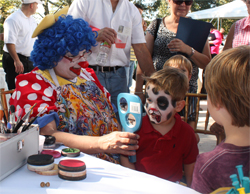 Zaylen Plack, 3, let out a puppy dog woof as Bubbles the Clown showed him his reflection. His parents, Andrew and Carol of Luling, La., have another son from a previous adoption.

Currently, there are 4,040 children in foster care.
Of these, 620 children have been legally freed for adoption and are waiting to be connected with adoptive families. On average, 56 foster children become available for adoption each month.
One goal of Adoption Awareness Month is recruiting new foster and adoptive parents.
"Adoption has the power to change lives," said Sonnier. "We rely on our foster parents, adoptive families and adoption advocates to spread that message as we work to recruit new families who can provide love and stability to help vulnerable children reach their full potential and to realize their dreams and aspirations."
DCFS participates in year-round recruiting efforts for foster and adoptive parents by holding orientation meetings each month across the state. For additional information on the schedule of orientations, as well as qualifications, the certification process on how to care for a child or children temporarily and life as a foster family, visit
www.dcfs.la.gov/fostercare
.
(Editors: Click the photos for large versions that can be used in your publications. Please credit the Louisiana Department of Children and Family Services.)
-30-