Newsroom
DCFS Launches Online Application for SNAP, Other Assistance Programs
SNAP joins Disaster Food Stamps, Child Support Services applications online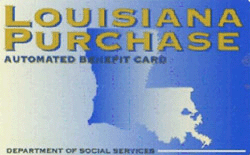 The Louisiana Department of Children and Family Services (DCFS) today announced that Louisianians can now apply for Supplemental Nutrition Assistance (SNAP) and other forms of assistance online.
"Louisianians can now apply for, complete a verification interview and receive benefits without stepping into a DCFS office," said Ruth Johnson, DCFS Secretary. "Citizens using the online application can complete the process on their schedule and save time by not waiting in line at a DCFS office."
The online application, which is available at
www.dcfs.louisiana.gov/ApplyOnline
, is used for SNAP, formerly known as food stamps, Family Independence Temporary Assistance (FITAP), Kinship Care Subsidy (KCSP) and the Child Care Assistance Program (CCAP) or a combination of these programs.
To apply online, Louisiana citizens can visit the link,
www.dcfs.louisiana.gov/ApplyOnline
, and create an account. Once the account is made, users have 30 calendar days to complete the application. Users can save and return to their partially completed applications at any time within that period.
"We wanted this process to be both as simple and as secure as possible," said Johnson. "DCFS is dedicated to keeping all of our clients' information safe and has implemented strong safety measures for the online application."
Applicants must create both a password and a PIN that is used as an electronic signature and sessions expire within 15 minutes of inactivity. Additionally, applications are saved inside of DCFS' firewall and cannot be saved on the applicant's computer.
After a completed application is submitted, a DCFS staff member will review it and schedule a verification interview. SNAP interviews are now completed over the phone, which means that the applicant does not need to come into a DCFS office. FITAP and KCSP still require an in-person interview. After the interview, DCFS determines the applicant's eligibility and notifies him or her.
Applicants may still fill out by hand an application downloaded from the DCFS website or picked up from a DCFS office. Those applications must be mailed back to a parish DCFS office. In addition, applications available for download are also available in Spanish and Vietnamese.
Electronic applications for Child Support Services and Disaster Supplemental Nutrition Assistance Program (DSNAP) also are available on the DCFS website.
DCFS offers parent-locating services, paternity establishment, Child Support determinations and enforcement, as well as collection and distribution of child support funds to any parent or person who is responsible for a child who received DCFS services. Additionally, any parent or caregiver may pay a $25 application fee to apply for and receive child support services, even if the child in their care never received DCFS services.
In Fiscal year 2008/2009, DCFS child support services collected $354 million in child support, including $103 million for cases in arrears.
Parents and caregivers can find the Child Support Services application at
www.dcfs.louisiana.gov/ChildSupportApplication
.
DCFS encourages all low- to moderate-income Louisianians who do not currently receive SNAP benefits to apply for DSNAP benefits at any time. Pre-applying saves time and makes it easier for households to locate documents and collect the financial information needed to apply. When a disaster strikes and DSNAP is implemented, eligible households will save time and only have to visit a DSNAP site to verify their information and receive DSNAP benefits. The DSNAP pre-application can be found at
www.dcfs.louisiana.gov/dsnap
.
"DCFS is modernizing its practices and providing more ways for Louisianians to reach us," said Johnson. "Online applications are one way that we are using technology to improve our services for Louisianians in need."