Newsroom
Newborn Safely Handed Over at Lake Charles area Safe Haven Facility One Month After State Public Awareness Campaign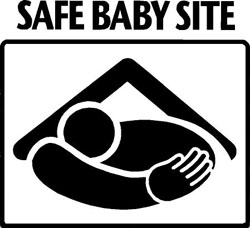 One month after the Department of Children & Family Services (DSS) launched a public awareness campaign to educate new parents about Louisiana's Safe Haven law, a mother who felt she could not care for her newborn made a safe choice early this morning when she placed her baby in the safe arms of a Lake Charles hospital worker.
The baby boy, who is in good health and is less than a week old, was handed over to workers at a Lake Charles area hospital on Wednesday. DSS' Lake Charles Office of Community Services had received a call on Tuesday from someone inquiring about Louisiana's Safe Haven law. A call was later received at the hospital verifying that it was a Safe Haven site.
"I applaud this parent's decision to make the right choice in ensuring the safety of this newborn by using Louisiana's Safe Haven law," said DSS Secretary Kristy Nichols. "When faced with an incredibly difficult choice, the child's life was safeguarded, preventing needless harm to the baby and prosecution for the parent."
The Safe Haven law provides a legal means for parents to give up custody of unwanted infants without the threat of prosecution for neglect, abandonment or child cruelty.
DSS launched its Safe Haven awareness campaign in February after the tragic death of an abandoned newborn in Kenner. Secretary Nichols has since conducted media interviews across the state. The agency has also developed a Web site, www.LouisianaSafeHaven.com, and created a presence on popular social networking sites, such as Facebook. The agency is also developing brochures, outdoor advertisements and radio and television commercials for the campaign.
This is the first Safe Haven case in the Lake Charles area since DSS implemented policies and procedures in 2004 relating to the state's Safe Haven law. In that time, nine infants have been successfully and safely relinquished to the state.
Safe Haven Cases since 2004
| | |
| --- | --- |
| Date | Location |
| May 2004 | Slidell area |
| November 2004 | Lafayette area |
| April 2005 | New Orleans area |
| May 2005 | New Orleans area |
| June 2007 | Lafayette area |
| July 2007 | New Orleans area |
| September 2007 | Shreveport area |
| October 2008 | New Orleans area |
| March 2009 | Lake Charles area |
Under the Safe Haven law, a parent may leave a baby up to 31-days-old in the care of an individual at a designated emergency care facility. The baby cannot be left unattended and must show no signs of abuse or neglect.
Louisiana's designated emergency care facilities are any licensed hospital, public health unit, emergency medical service provider, medical clinic, fire or police station, pregnancy crisis center or child advocacy center.
DSS recommends that parents who want to relinquish their newborns take the following steps:
Locate the nearest emergency care facility (i.e. hospital, public health unit, any EMS unit, medical clinic, fire or police station, pregnancy crisis center or child advocacy center).
Locate an employee with the facility, hand your child to them and state that you want to utilize Louisiana's Safe Haven law.
After the child is given up, he or she is taken for a medical checkup. The relinquishing parent is provided a card with a toll-free phone number (1-800-CHILDREN or 1-800-244-5373) to call and receive information about parental rights and provide anonymous information about the infant's medical and genetic history, if desired. A parent who wishes to initiate proceedings to reclaim custody of the child has 30 days to contact DSS.
Meanwhile, officials at the designated emergency care facility that received the child notify DSS. The Office of Community Services (OCS) begins the process to obtain legal custody of the child and to free the child for adoption.
A series of high-profile infant abandonment cases across the country prompted the Louisiana Legislature to combat the problem. In 2000, Louisiana enacted such a law, amending the Children's Code Articles 1101 and 1193 and Title XVII of the Children's Code, Articles 1701-1706, to provide for the Safe Haven relinquishment of newborns. That Code again was amended in 2003.
According to the National Safe Haven Alliance, all 50 states have some form of Safe Haven provision.
For more information about the Safe Haven law, call 1-800-CHILDREN (1-800-244-5373), which is supported by Prevent Child Abuse Louisiana, or visit
www.LouisianaSafeHaven.com
.