Safe Haven
Louisiana Safe Haven Directory
Enter your ZIP code or city name to find locations near you.

Louisiana is a Safe Haven State. Safe Haven Provides a safe,
legal, last resort to abandonment.

It's Safe
If you find yourself with no other alternative and are considering abandoning your baby, Louisiana's Safe Haven Law provides a safe place for your child. If you are unable to care for your baby and the baby's well-being is in danger, you can bring the newborn up to 60 days old to an emergency designated facility or Safe Haven site. By leaving the baby in the care of an employee at a Safe Haven facility, parents can give up custody of the newborn with no questions asked.
Parents who would like to give up custody of their child, but whose child is not in immediate danger of harm, are encouraged to use a planned, permanent adoption through an adoption agency that accounts for medical and genetic history.
It's Legal
Employees at designated Safe Havens are trained to keep a newborn safe and the situation confidential.
As long as the parent leaves their baby with an employee and the baby shows no signs of abuse or neglect, the parent can simply walk away knowing that their baby will be safe.
Leaving a baby unattended, on a doorstep or in a bathroom, for instance, is illegal and will not meet the criteria of the Safe Haven Law.
It's AnonymousParents do not have to give their name or any other information. Safe Haven employees keep everything confidential. Parents can call 1-800-CHILDREN (1-800-244-5373) to learn about their parental rights or anonymously give medical information about their baby to be used for adoption purposes.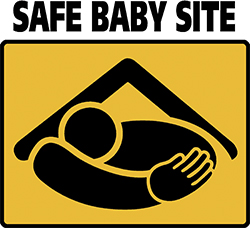 Designated Safe Haven LocationsA "designated emergency care facility" includes any of the following:
Licensed Hospitals
Public Health Units
Emergency Medical Service Providers
Medical Clinics
Fire Stations
Police Stations
Crisis Pregnancy Centers
Child Advocacy Centers
If a parent is unable to travel to a Safe Haven facility, he or she may call 911, and a law enforcement officer or EMS provider will pick up the infant and transport the child to a hospital. It's Simple

Go to the nearest Safe Haven facility (i.e. hospital, public health unit, EMS unit, medical clinic, fire or police station, crisis pregnancy center or child advocacy center).
Give the baby to an employee at the facility. Parents should tell the employee that they want to utilize the Safe Haven Law.
An employee will offer the parent a card with a toll-free number, 1-800-CHILDREN (1-800-244-5373), to call if the parent wants to give medical information about the baby or learn about their parental rights.
What happens to the baby?The baby will be brought to the nearest medical facility for a health assessment and to receive any necessary medical care.

The Department of Children and Family Services (DCFS) will find a family to care for the baby. DCFS will begin proceedings to obtain custody of the child and safely and legally place the baby in a permanent adoptive family.
What happens to the parent?As long as the baby shows no signs of abuse or neglect, the parent will be protected by the Safe Haven Law and will not be considered guilty of a criminal act of neglect, abandonment or child cruelty.
What if the parent changes his/her mind?The parent can seek to reclaim parental rights within 30 days by contacting the local DCFS office.
More InformationMore information regarding the Safe Haven Law is available by calling toll-free 1-800-CHILDREN (1-800-244-5373) or through the local DCFS office.
History of Louisiana's Safe Haven Law
A series of high-profile infant abandonment cases across the country prompted the Louisiana Legislature to combat the problem. In 2000, Louisiana enacted the Safe Haven law, amending the Children's Code Articles 1101 and 1193 and Title XVII of the Children's Code, Articles 1701-1706, to provide for the Safe Haven relinquishment of newborns. That Code again was amended in 2003. The entire Safe Haven Law is contained in LA Children's Code Chapter 13, Articles 1149-1160 (pdf). More about Safe Haven

DCFS (then the Department of Social Services) implemented policies and procedures in 2004 relating to the state's Safe Haven law. Since 2004, more than 50 infants have been successfully and safely relinquished to the state.
I work at a Designated Emergency Care Facilities. Where can I find information about my role?
---
Reports
» 2017 Safe Haven Annual Report
» 2016 Safe Haven Annual Report
Press Releases
» (10.16.17) DCFS Launches Online 'Safe Haven' Facility Locator
» (05.24.16) Newborn Safely Relinquished to Safe Haven Facility in Baton Rouge
» (07.31.13) August 1 Brings Changes to Louisiana Safe Haven Law
» (01.18.12) Louisiana Safe Haven Law Provides Alternative to Abandoning Newborns
» (10.07.10) Newborn safely relinquished through Safe Haven law
» (05.07.10) Newborn Safely Relinquished Through Safe Haven Law
» (07.14.09) Safe Haven Television Commercial Begins Statewide Run
» (04.09.09) Newborn Safely Handed Over at Safe Haven Facility, Second Since February Launch of Public Awareness Campaign
» (03.11.09) Newborn Safely Handed Over at Lake Charles Safe Haven Facility One Month After State Public Awareness Campaign
» (02.11.09) DSS Launches Safe Haven Public Awareness Campaign
» (02.11.09) Louisiana's Safe Haven Law Designed to Keep Unwanted Newborns Safe, Parents Free from Prosecution