Executive Team - Secretary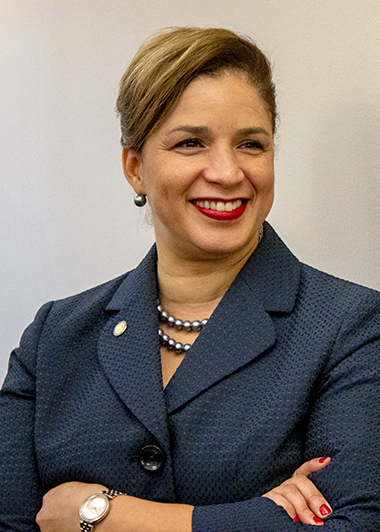 Terri Porche Ricks was appointed Secretary of the Department of Children and Family Services on December 22, 2022. She previously served as Deputy Secretary since 2016. Ms. Ricks has over two decades of legal, financial, human resources, policy and management experience. An accomplished legal and administrative executive with a proven ability to lead and manage complex organizations, Ricks served as Undersecretary of the Department of Social Services ("DSS" and now "Department of Children and Family Services"), from 2004 to 2008.
Ms. Ricks has played an essential role in the leadership and management of DCFS and has been responsible for enterprise-wide efforts since 2016. Those efforts include leading the restructuring of DCFS in 2016 and fundamentally reframing the Family Support Division to include a greater emphasis on workforce initiatives, a shift to more family-centered child support, increased client access through more robust customer service, and increased poverty competency of staff. Ms. Ricks represents DCFS on the Governor's Workforce and Education Subcabinet, a cross-agency collaborative effort primarily focused on harnessing Louisiana's untapped talent. She also led the efforts to create the department's Diversity, Equity and Inclusion (DEI) unit. Responsive to Louisiana's needs, she has increased partnerships with community organizations, national foundations, and others to decrease poverty and increase equity and family stability.
She has served as the department's executive leader regarding disaster recovery matters, helping shape Louisiana's disaster recovery in the area of health and social services and gathering the attention and support of federal partners for recovery.
Ms. Ricks has been a key force in expanding the department's use of technology to communicate both internally and externally, sharing information with staff and stakeholders about services and department actions, particularly in times of disaster. Working with nonprofit Code for America, she led the department's efforts to use technology to combat the loss of benefits when clients are still eligible. She also was an early champion of the department's adoption and implementation of a mass mobile alert communication system and played a major role in DCFS's partnership with Louisiana 2-1-1 to provide up-to-the-minute information to the public during emergency events. She now builds upon that partnership in leading the department in its No Wrong Door service delivery, introducing the use of the 2-1-1 resource and referrals, including a closed-loop referral platform powered by Unite Us, to better serve Louisiana.
Her work positioned DCFS to respond deftly to the COVID-19 pandemic, during which Ms. Ricks has managed the department's internal response, including policy changes, communication with leadership, and the development of an online COVID reporting system for staff.
Currently pursuing a Ph.D. for Leadership and Human Resource Development at LSU, Ms. Ricks previously served as Director of Human Resources and attorney at Baton Rouge Community College, as well as the General Counsel of the Louisiana Housing Corporation before returning to DCFS as Deputy Secretary.
Ms. Ricks began her public service career as an eligibility determinations examiner at DSS. Her first legal position in public service was as Assistant Attorney General at the Louisiana Department of Justice in public finance. She has extensive legal and policy experience with family-related matters, housing and government administration, contracts, labor-related matters and mediation.
A member of the Louisiana State Bar Association, Ricks received her Juris Doctorate from Tulane University Law School where she served as President of the Student Bar Association. She earned her undergraduate degree in psychology from Louisiana State University.
Ms. Ricks earned her Diversity, Equity and Inclusion in the Workplace Certificate from the University of South Florida MUMA College of Business in 2021, and she was chosen to participate in the first Louisiana Public Health Institute Racial Justice & Health Equity in Louisiana Learning Lab in 2020 and the 2019 Health and Human Services Summit at Harvard University.
Ms. Ricks is a 2010 alumna of the Council for a Better Louisiana (CABL) Leadership Louisiana program, an Inaugural Fellow of the 2009 Louisiana Effective Leadership Program (LaELP) of Duke University's Sanford School of Public Policy's United States-Southern African Center for Leadership and Public Values & Southern University College of Business' Center for Entrepreneurial and Leadership Development. Ms. Ricks is a past member of the LSBA Alternative Dispute Resolution Section Council.
---