Inside DCFS
Executive Team - Deputy Secretary
Deputy Secretary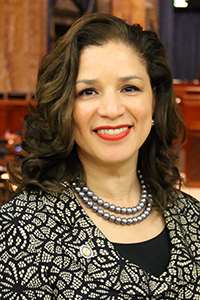 Terri Porche Ricks brings almost two decades of legal, financial, human resources, policy and management experience to her role as Deputy Secretary of the Department of Children and Family Services. An accomplished legal and administrative executive with a proven ability to lead and manage complex organizations, Ricks previously served as Undersecretary of the then Department of Social Services (now Department of Children and Family Services), from 2004 to 2008.
As DCFS Deputy Secretary, Ricks plays an essential role in the leadership and management of DCFS. Among her numerous responsibilities, she serves as the department's representative in disaster recovery matters, helping shape Louisiana's disaster recovery in the area of health and social services.
Prior to returning to DCFS, Ricks applied her managerial and leadership skills as the Director of Human Resources at Baton Rouge Community College and General Counsel of the Louisiana Housing Corporation.
She began her public service career as an eligibility determinations examiner. Her first legal position in public service was as Assistant Attorney General at the Louisiana Department of Justice. She has extensive legal and policy experience with family-related matters, housing and government administration, contracts and labor-related matters.
A member of the Louisiana State Bar Association, Ricks received her Juris Doctorate from Tulane University Law School where she served as President of the Student Bar Association. She earned her undergraduate degree in psychology from Louisiana State University.
Ricks is a 2010 graduate of the Council for a Better Louisiana (CABL) Leadership Louisiana program and a 2010 Redemptorist Senior High School Alumni Hall of Fame inductee. She is a past member of the Alternative Dispute Resolution Section Council.