Disaster Supplemental Nutrition Assistance Program (DSNAP)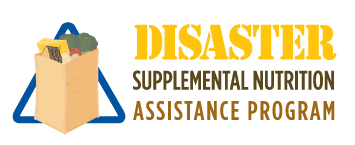 As you prepare for hurricane season or other disasters, make pre-registering for Disaster Supplemental Nutrition Assistance Program part of your plan. If you think your household could be impacted by damages or lost wages due to a hurricane or other diaster, pre-register online or by phone for DSNAP. DSNAP provides eligible low- to moderate-income households - who do not normally receive SNAP benefits - with help buying groceries due to lost income or damages following a disaster.
dsnap
How to Pre-Apply:
Visit www.dcfs.louisiana.gov/preregister or call 1-888-LAHELP-U
Provide the following information:

Names, Social Security Numbers and Dates of Birth for each household member
Address and Parish where you currently live
Monthly income for each household member
All liquid resources for each household member (cash on hand, checking, savings and money market account balances and certificates of deposit)

After an emergency, visit a DSNAP site to verify your information and identity and receive your benefit card if you qualify.
Pre-registering before a hurricane or other disaster strikes is important, as you may not have access to the required household and income information following a disaster or evacuation.
If you already receive SNAP benefits and are eligible for disaster benefits, you do not need to pre-register, as benefits will be added to your benefit card automatically.
Pre-registering does not guarantee benefits. DSNAP is only administered after a federally declared disaster and after the state receives approval from the United States Department of Agriculture, Food and Nutrition Services to activiate DSNAP services.
After a disaster is declared, residents who have pre-registered only need to visit a DSNAP issuance site to verify their information and identity, determine final eligibility and receive their benefit cards. Eligibility requirements and DSNAP locations will be announced at the time of a disaster.
You may name an Authorized Representative to go to a DSNAP site on your behalf. Accommodations will be made for the elderly and those with disabilities to reduce on-site wait times.